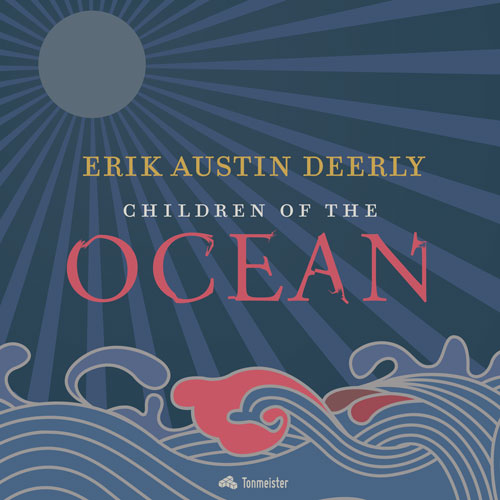 The multi-instrumental talents of Erik Deerly are evidenced by the incredible attention to electronic music and nu-jazz foundations with equal bouts of new age, improvisation, and ethnic elements.  The high-brow musings of 
Children Of The Ocean
 are instrumental and completely devoid of vocalizations.  The eleven tracks suggest some nod to water in its various forms, but ethnic elements taken from islands between the Arctic, Pacific, African, and Southeast Asian regions are evident—whether intentional or not.
"The Order Cetacea" opens with guitar stylings, flute-like sounds, and light percussion that represents a nu-jazz improvisational vein.  Metallic pings and strings give way for a flute-like solo mid-song.  The blurby electronics and piercing flute are joined by a distant guitar beat, until the resulting instruments repeat the opening lines.  However, a few more electronic scratches and rasps are added to the song over the last half of the song.  At any rate, the song is wholly instrumental and contains a slight South Asian presence, but it is decidedly more East Asian with the flute renditions.
"Slaughter Off The Lofotens" begins with electronic drones, static-driven washes, drippy electronics, and tambourine shakers.  The light mix of instrumentation and electronic embellishments reach a crescendo of symphonic sounds of crystalline beauty.  The clear, bell-like tones are joined by airy, flute-like sounds and metallic rustles.  This is fairly experimental overall with a spacey, atmospheric and new age tone that does not contain any vocals.
"Blood In The Southern Ocean" begins with earthy clangs indicative of a balafon or gong sound accompanied by several shakers and a host of electronic washes.  This reflects a Southeast Asian presence, and the nature-like sounds of screeches, ticks, and flute-like embellishments provide a layered concoction of complexity not observed in other songs.  The breathy bansuri or shakuhachi-like flute soundings represent an ethnic element that takes the song into a new direction of musical development—notably, Sri Lanka or Japan.
"Grindadrap" opens with a heady mix of clanging percussion, whirling washes, punchy horns, and electronic trills, thrills, and grooves.  There is a diverse sense of instrumentation throughout, but jazzy horns form a different kind of nu-jazz or ambient music.  The horns are played rather forceful with little room for long-lasting, sweeping melodies.  At any rate, the bubbling water sounds at the end of the song signify connectedness between the oceans and their inhabitants. The music is very complex with sounds and instruments colliding in different ways and at different levels.  However, the musical confusion is part of the song's allure.
Erik's Children Of The Ocean revolves around the sounds and inhabitants of the world's oceans. The vehicle for the music is found in the electronic and jazz-driven compositions that permeate the sound worlds of Erik's music.  The eleven songs are rooted in electronica, but they are not flashy dance tracks or mind-numbing drum 'n' bass.  Instead, Erik paints poignant pictures of oceanic adventures with electronic delights on keyboard with horns, flutes, percussion, and other weird sound oddities that make the music memorable.  Fans of electronic music, instrumental music, and experimental or improvisational nu-jazz with some ethnic elements will find Children Of The Ocean most tantalizing.
— Matthew Forss
Friday, March 9, 2012
Source:http://www.tonmeisterrecords.com/children-of-the-ocean-review-by-matthew-forss/