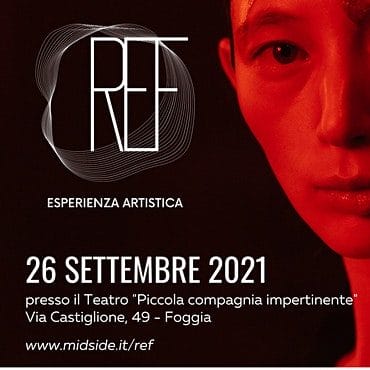 New audiovisual work by Erik Deerly was selected for publication and distribution by the Italian arts organization, MID SIDE Aps. This work premiers September 26th, 2021, at the REF – Resilience Festival, in Foggia at the Teatro Della Piccola Compagnia Impertinente.
With over one hundred and twenty works sent to the CALL FOR WORKS 2021 and with participants from over 30 countries, the empirica record label, in collaboration with MID SIDE Aps and with the support of Sfoggia and Piccola Compagnia Impertinente, promotes the first edition of the REF – Resilience Festival, an artistic experience of acusmatic and audiovisual works.

The REF will take place on September 26, 2021 in Foggia at the Teatro della Piccola Compagnia Impertinente, an intimate and evocative location, characterized by the black color and the neutral perception of the environment. Inside the works will be reproduced in a continuous flow, as in a multimedia exhibition, giving the viewer the opportunity to immerse himself freely in listening and viewing and allowing him to independently enjoy the artistic experience. In this way we get out of the concept of tradition of concert, here it is the individual who decides independently how much he wants to enjoy being able to independently define the beginning and the end of his listening / vision experience.